Cell Phone Fraud & Sextortion Presentation
May 18, 2023
6:00 PM
The Strongheart Center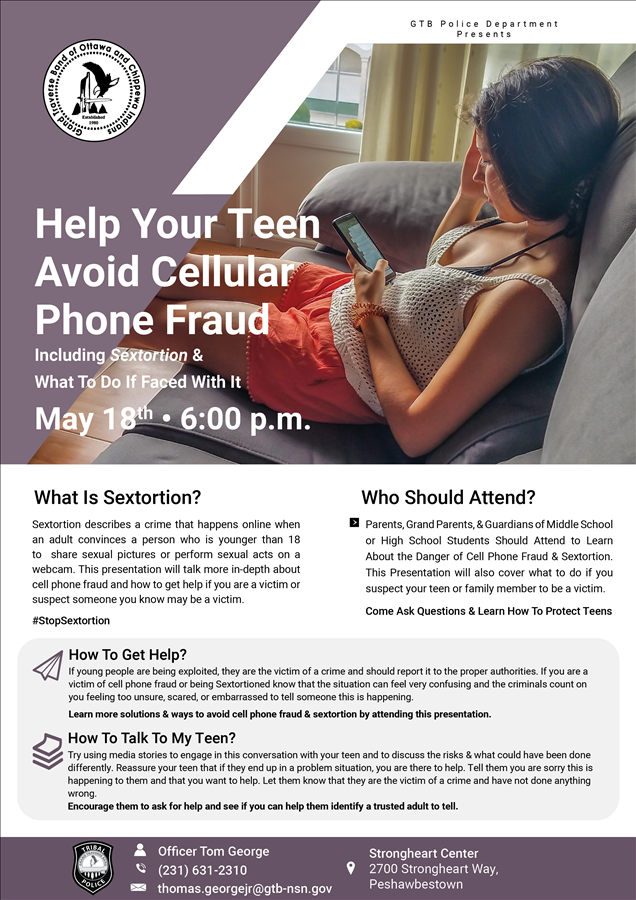 Help Your
Teen
Avoid Cellular Phone Fraud, Including Sextortion & What to Do If Faced With It
STRONGHEART CENTER - 2700 STRONGHEART WAY
Guest Speaker:
Tribal Prosecutor, Wilson Brott
Sextortion describes a crime that happens online when an adult convinces a person who is younger than 18 to share sexual pictures or perform sexual acts on a webcam. This presentation will talk more in-depth about cell phone fraud and how to get help if you are a victim or suspect someone you know may be a victim.
Parents, Grand Parents, & Guardians of Middle School or High School Students Should Attend to Learn About the Danger of Cell Phone Fraud & Sextortion. This Presentation will also cover what to do if you suspect your teen or family member to be a victim.
Come Ask Questions & Learn How To Protect Teens
Questions?
Offcier Tom George
(231) 631-2310 | Thomas.George@gtb-nsn.gov