Conservation
Main Line: (231) 534-7360
Fax: (231) 534-7639
Grand Traverse Band Conservation Department
2300 N. Stallman Rd,
Peshawbestown, MI, 49682, located inside Tribal Police Department
Great Lakes and Inland Enforcement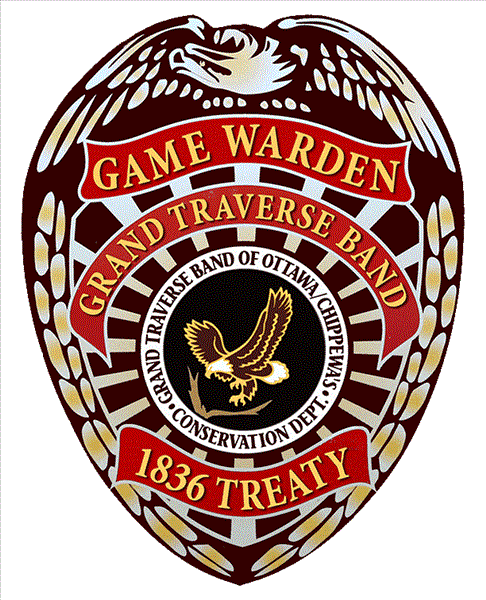 The exercise of 1836 Treaty of Washington on waters and lands within the Ceded Territory. The Grand Traverse Band Conservation Department protects the inherent rights of Anishnaabek through the March 28, 1836 Treaty of Washington with the Ottawa's. This Treaty encompasses both the Commercial and Subsistence fishing of the Treaty Ceded
Waters in the Consent Decree of August 8, 2000 and the Inland Fishing, Gathering, Hunting and Trapping in the Inland Consent Decree Entered November 7, 2007.
Tribal members engaged in any of the activity covered in the Consent Decree of August 8, 2000 and the Inland Consent Decree entered on November 7, 2007 are regulated by the rules and regulations adopted by the Grand Traverse Band of Ottawa and
Chippewa Indians. Enforcement agreements have been entered with the other member Tribes of the Chippewa Ottawa Resource Authority to extend authority over these designated Tribes. The Treaty Ceded Territory and Treaty Ceded Waters encompass
forty-two counties of Upper and Lower Michigan.
The Department is mandated by the Consent decree to participate in eight scheduled Joint Law Enforcement patrols throughout the Treaty Ceded Waters of the Great Lakes. We are also mandated to participate in a minimum of four Joint Law Enforcement
Committee meetings throughout the year.
We are mandated by BIA Minimum Standards to qualify semiannually with department issued firearms. Obtain a minimum of forty hours of Conservation Enforcement related training annually. The department remains on a 24 hour "On Call" duty status for enforcement related activity throughout the Treaty Ceded Territory of Michigan and the Waters of the Great Lakes.
Environmental
Inland
Hunting Fishing Trapping Gathering Permits
Deer Tags
Turkey Tags
Special Use Permits
Regulation Booklets• Spearing Permits
Inland Boat/Snowmobile/ORV Registration
Sleeping Bear National Lake Shore Passes
Manistee National Forest Passes
Deer Check Station
Tribal Repository
GPS Mapping & Technical Assistance
Plant, Bug and Fish Identification
Commercial Great Lakes Fishing
CORA Vessel Registration
Fisheries Habitat Surveys
Issue Commercial Fishing Licenses
Captain
Helper
Subsistence
Issue Vessel Observer Permits
Operate and Maintain the Tribe's Arthur Duhamel (Peshawbestown) and Beaver's Landing (St. James)
Commercial Marinas
Dockage
Electricity
Ice
Provide "Seasonal Fisher Loans"