Q&A Session & Assistance for Completing Behavioral Health Client Applications
November 29, 2023
10:00 AM to 3:00 PM
3 Mile Office - 845 Business Park Dr, Traverse City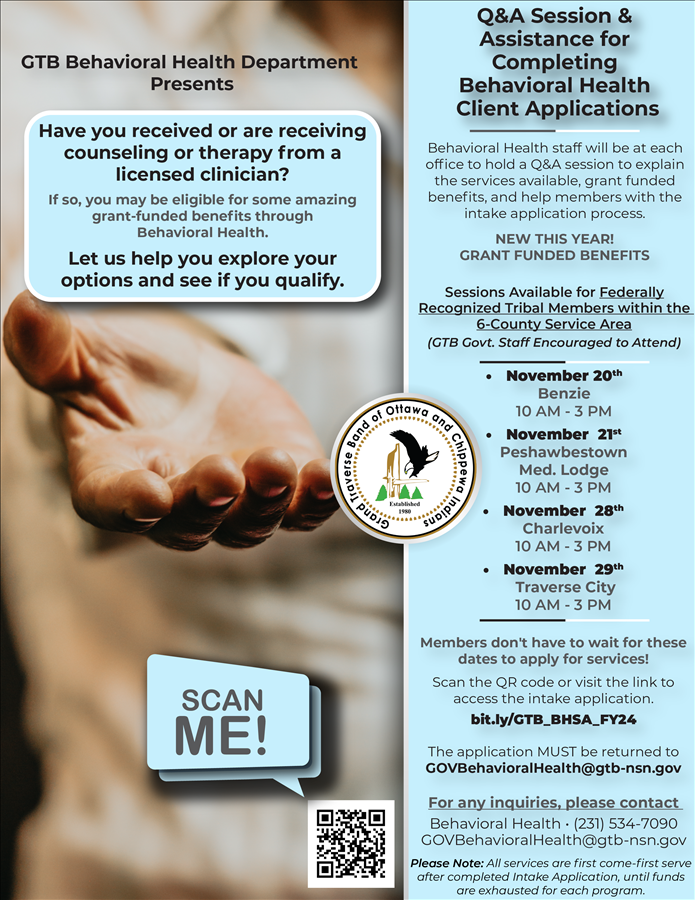 GTB Behavioral Health Department Presents
Q&A Session & Assistance for Completing Behavioral Health Client Applications
Have you received or are receiving counseling or therapy from a licensed clinician?
If so, you may be eligible for some amazing grant-funded benefits through Behavioral Health. Let us help you explore your options and see if you qualify.
Behavioral Health staff will be at each office to hold a Q&A session to explain the services available, grant funded benefits, and help members with the intake application process.
NEW THIS YEAR! GRANT FUNDED BENEFITS
Sessions Available for Federally Recognized Tribal Members within the 6-County Service Area (GTB Govt. Staff Encouraged to Attend)
• November 29th • Traverse City • 10 AM - 3 PM
Members don't have to wait for these dates to apply for services! Scan the QR code or visit the link to access the intake application.
bit.ly/GTB_BHSA_FY24
The application MUST be returned to: GOVBehavioralHealth@gtb-nsn.gov
For any inquiries, please contact: Behavioral Health • (231) 534-7090 • GOVBehavioralHealth@gtb-nsn.gov

Please Note: All services are first come-first serve after completed Intake Application, until funds are exhausted for each program.