The Creator's Game Baaga'adowewin (Lacrosse)
May 27, 2023
11:00 AM to 4:00 PM
Strongheart - 2700 Strongheart Way, Peshawbestown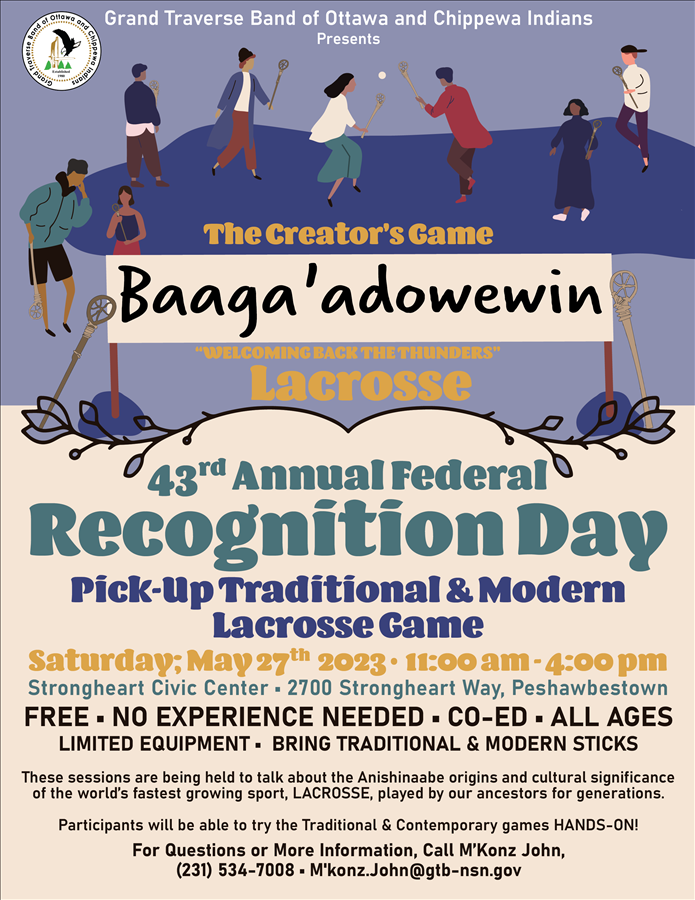 43rd Annual Federal Recognition Day
Pick-Up Traditional & Modern Lacrosse Game with M'konz John & RJ Smith
SATURDAY; MAY 27TH 2023 • 11:00 AM - 4:00 PM
Strongheart Civic Center • 2700 Strongheart Way, Peshawbestown
FREE • NO EXPERIENCE NEEDED • CO-ED • ALL AGES
LIMITED EQUIPMENT • BRING TRADITIONAL & MODERN STICKS
These sessions are being held to talk about the Anishinaabe origins and cultural significance of the world's fastest growing sport, LACROSSE, played by our ancestors for generations.
Participants will be able to try the Traditional & Contemporary games HANDS-ON!
For Questions or More Information, Call M'Konz John,
(231) 534-7008 • M'konz.John@gtb-nsn.gov
---
Grand Traverse Band of Ottawa and Chippewa Indians Presents 43rd Annual Federal Recognition Day Tribal Market Day!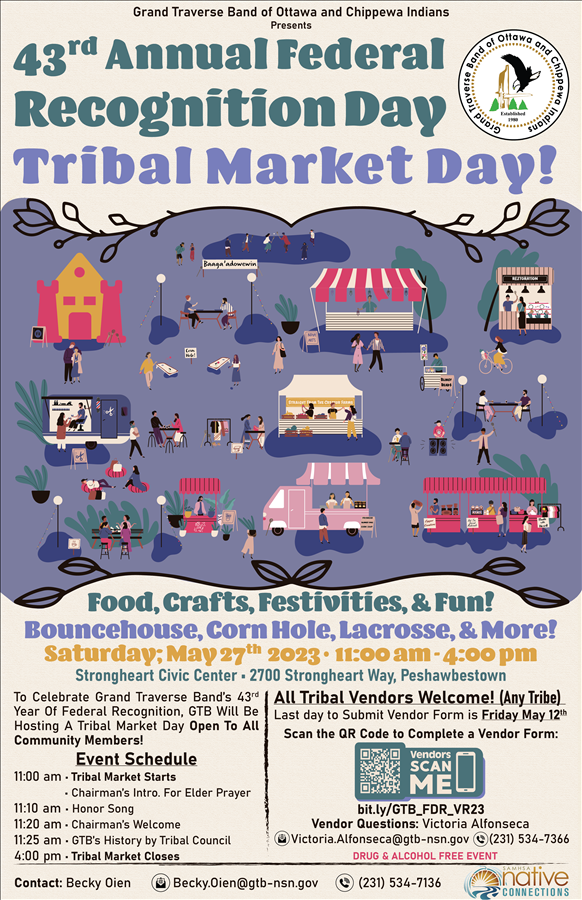 Celebrate Grand Traverse Band's 43rd Year of Federal Recognition, GTB Will Be Hosting a Tribal Market Day Open to All Community Members! Drug & Alcohol FREE Event sponsored by Native Connections (SAHMSA).
Food, Crafts, Festivities, & Fun!
Bouncehouse, Corn Hole, Lacrosse, & More!
Saturday; May 27th 2023 • 11:00 am - 4:00 pm Strongheart Civic Center • 2700 Strongheart Way, Peshawbestown
Event Schedule
11:00 am
Tribal Market Starts
Chairman's Intro. For Elder Prayer
Lacrosse Game Starts
11:10 am
11:20 am
11:25 am
GTB's History by Tribal Council
4:00 pm
More Information about Federal Recognition - Tribal Market Day Here: bit.ly/GTBFRD23