Youth Porcupine Quills (Sorting, Cleaning, Dying)
June 13, 2023 to June 15, 2023
2:00 PM to 6:00 PM
M22 Youth Services Building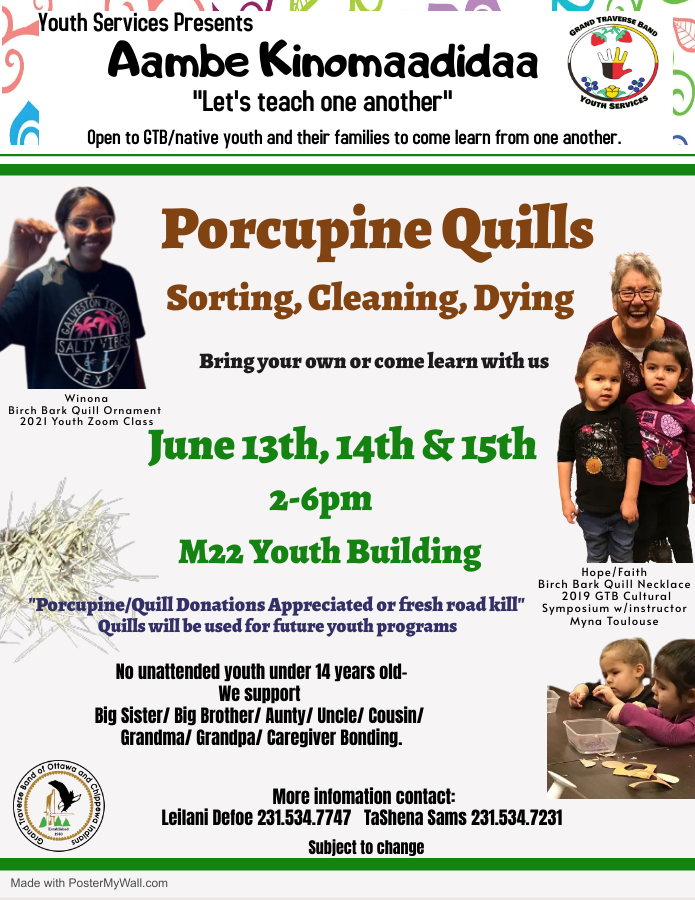 Youth Service Presents
Aambe Kinomaadidaa "Let's teach one another"
Open to GTB/Native Youth & their Families to come learn from one another.
Porcupine Quills (Sorting, Cleaning, Dying)
Bring Your Own or Come Learn With Us
June 13th, 14th, & 15th - 2-6pm - M22 Youth Building
Porcupine/Quill Donation Appreciated or fresh road kill. Quills will be used for future youth programs.
No unattended youth under 14 years old. We Support Big Sister / Big Brother / Auntie / Uncle / Cousin / Grandma / Grandpa / Caregivier Bonding.
More Info: Leilani DeFoe (231) 534-7747
Ta'Shena Sams (231) 534-7231