Purchased/Referred Care (PRC) Annual Update Meeting (Benzie)
November 8, 2023
10:00 AM to 2:00 PM
Benzie Office - 282 Hoadley Road, Benzonia, MI 49616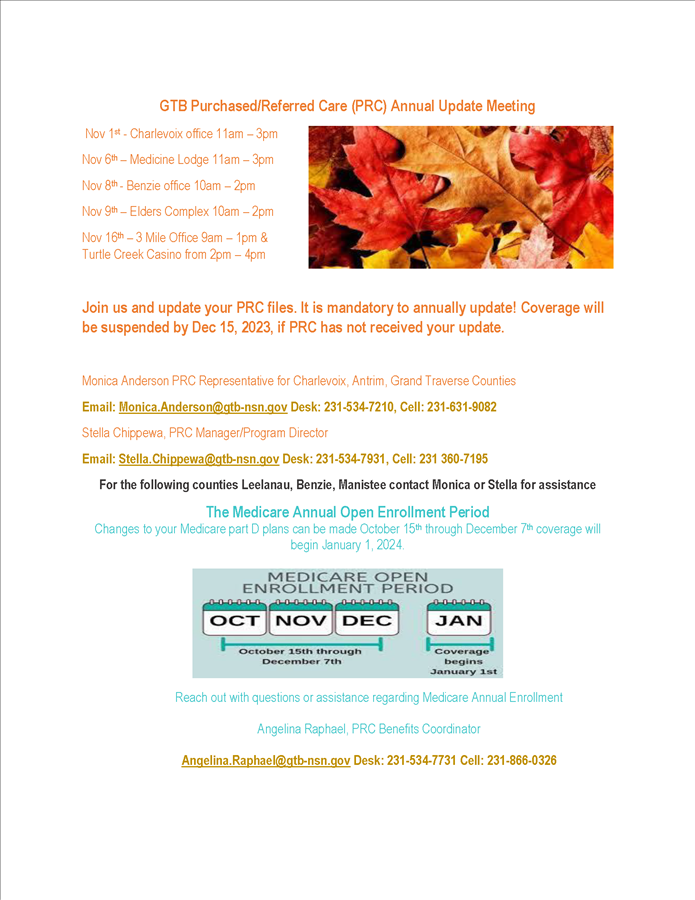 Join us and update your PRC files. It is mandatory to annually update! Coverage will be suspended by Dec 15, 2023, if PRC has not received your update.
Nov 1st - Charlevoix office 11am – 3pm
Nov 6th – Medicine Lodge 11am – 3pm
Nov 8th - Benzie office 10am – 2pm
Nov 9th – Elders Complex 10am – 2pm
Nov 16th – 3 Mile Office 9am – 1pm
Nov 16th - Turtle Creek Casino from 2pm – 4pm
Monica Anderson PRC Representative for Charlevoix, Antrim, Grand Traverse Counties
Email: Monica.Anderson@gtb-nsn.gov
Desk: 231-534-7210
Cell: 231-631-9082
Stella Chippewa, PRC Manager/Program Director
Email: Stella.Chippewa@gtb-nsn.gov
Desk: 231-534-7931
Cell: 231-360-7195
For the following counties Leelanau, Benzie, Manistee contact Monica or Stella for assistance.
The Medicare Annual Open Enrollment Period
Changes to your Medicare part D plans can be made October 15th through December 7th coverage will begin January 1, 2024. Reach out with questions or assistance regarding Medicare Annual Enrollment
Angelina Raphael, PRC Benefits Coordinator
Email: Angelina.Raphael@gtb-nsn.gov
Desk: 231-534-7731
Cell: 231-866-0326