Suicide Awareness Presentation by Behavioral Health
November 20, 2023
3:00 PM
Benzie Office - 7282 Hoadley Rd, Benzonia, MI 49616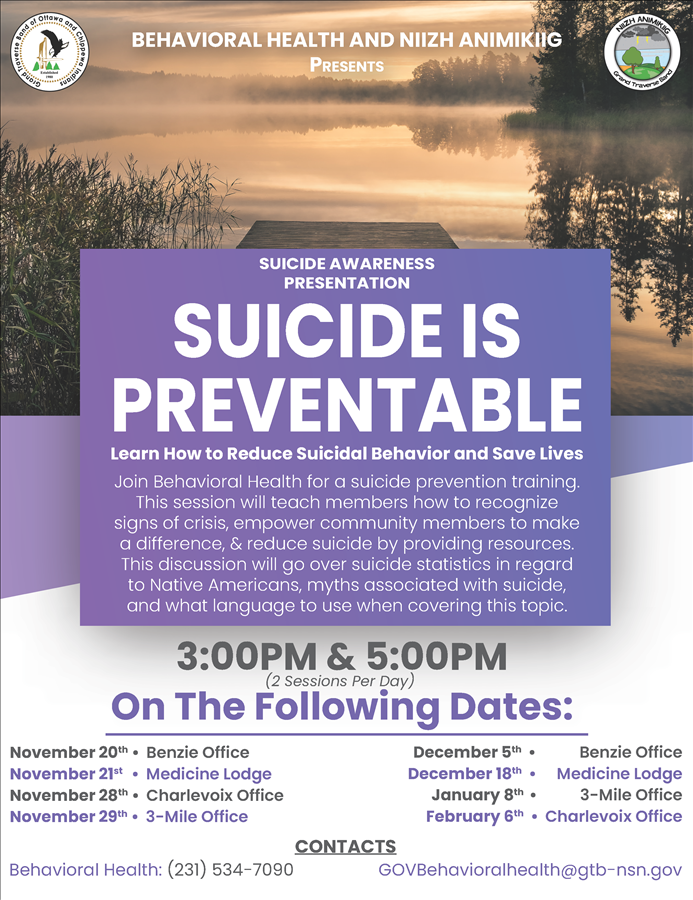 Suicide Awareness Presentation by Behavioral Health
SUICIDE IS PREVENTABLE
Join Behavioral Health for a suicide prevention training.
This session will teach members how to recognize signs of crisis, empower community members to make a difference, & reduce suicide by providing resources.
This discussion will go over suicide statistics in regard to Native Americans, myths associated with suicide, and what language to use when covering this topic.
3:00PM & 5:00PM On The Following Dates:
(2 Sessions Per Day)
November 20th • Benzie Office
November 21st • Medicine Lodge
November 28th • Charlevoix Office
November 29th • 3-Mile Office
December 5th • Benzie Office
December 18th • Medicine Lodge
January 8th • 3-Mile Office
February 6th • Charlevoix Office
CONTACT
Behavioral Health: (231) 534-7090 • GOVBehavioralhealth@gtb-nsn.gov