Human Services
The Human Services Department consists of three separate programs: Human Services, Anishinaabek Family Services, and Behavioral Health.
Department Manager Kathy Tahtinen, MPA, CNP Phone: (231) 534-7255
Traditional Healing with Joe Syrette - Upcoming Dates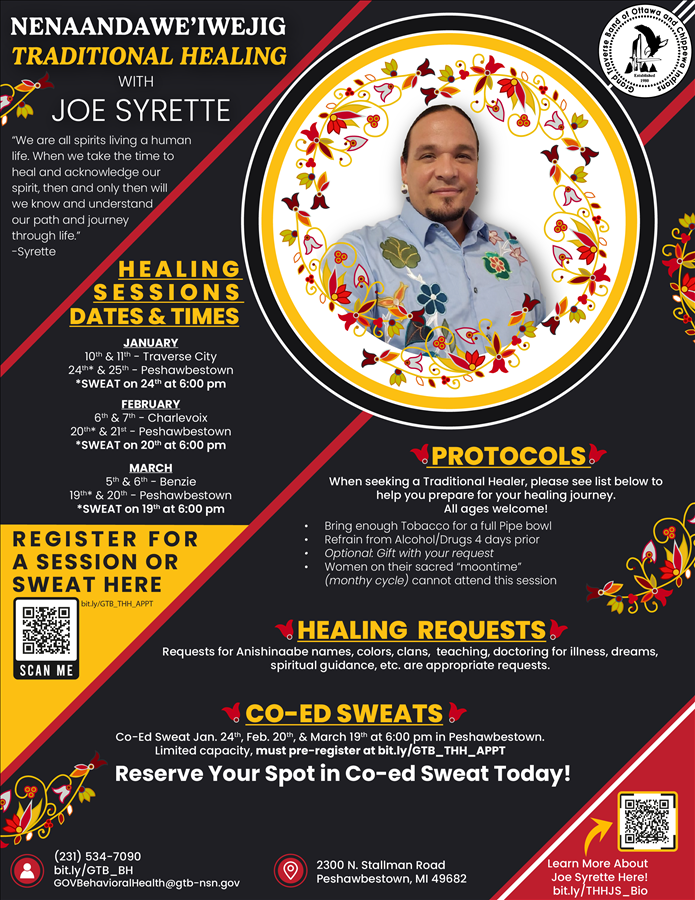 Learn more about Joe Syrette, CLICK HERE!
HUMAN SERVICES
Promotes community self-sufficiency, and physical and mental well-being for Tribal members residing within the six-county service area through direct service provision, education, and community involvement within the spirit of self-governance.
Income-eligible GTB households receive financial assistance through LIHEAP, RAO, ARPA, and CSBG. Income-eligible Federally recognized tribal members are eligible for assistance through LIHEAP and CSBG.
Emergency Heating Assistance
Food purchase order to select stores
Weatherization
Emergency food pantry
Community Food Rescue on Mondays
LINK TO ONLINE FORM FY24 HUMAN SERVICES APPLICATION
LINK TO PRINTABLE FY24 HUMAN SERVICES APPLICATION
LINK TO FY24 LIHEAP WEATHERIZATION APPLICATION
LINK TO FY24 HUMAN SERVICES RESOURCE BOOKLET
E-mail: HumanServices@gtb-nsn.gov Phone: (231) 534-7910
Anishinaabek Family Services
To protect the best interest of Native American Children and to promote the stability and security of Indian Tribes and families by implementing the requirements established in the Indian Child Welfare Act and by Tribal customs, codes, and policies.
To facilitate the coordination of all Federal, Tribal, State, and other Social Services programs for the Tribe.
Provides Adult and Child Social Work, Adult Protective Services, Child Protective Services, Case Management, Prevention Services, and Victim Services
LINK TO ANISHINAABEK FAMILY SERVICES BROCHURE
E-mail: AFS@gtb-nsn.gov On-Call Cell Phone: 231-499-5162
Behavioral Health Services
To provide intervention, clinical, prevention, and recovery support services and activities to federally recognized Tribal members residing within the GTB six-county service area in a safe confidential environment that is a State Licensed and CARF Accredited outpatient program.
Services include Prevention Events and Educational Activities, BH Assessments, Case Management, Referrals, Michigan Driver's License Assessments, Traditional Healer Services, Peer Recovery Coaching, Counseling, and Psychiatric Services.
LINK TO ONLINE FORM FY24 BEHAVIORAL HEALTH INTAKE APPLICATION
LINK TO PRINTABLE FY24 BHS INTAKE APPLICATION
E-mail: GOVBehavioralHealth@gtb-nsn.gov Phone: (231) 534-7090