Green Committee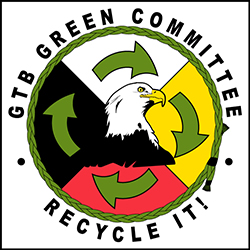 What is the GREEN Committee?
The GREEN Committee is dedicated to reducing the Grand Traverse Band of Ottawa and Chippewa Indians environmental impact. Membership on this committee is voluntary; however, it requires a commitment to attend meetings, participate in events, and upholds the objectives outlined below. Members can be any employee who wishes to participate as an active member or as an event member. The Committee consists of four Officer positions and six member positions, for a total of ten members not including Executive Committee Members whose numbers and involvement shall not be limited.

The objectives of the GREEN Committee are:
To act as environmental leaders and role models for staff, increase environmental awareness, and collectively make decisions that will positively impact the environment.
To incorporate cultural philosophies of the Anishinaabek into GREEN Committee activities.
To participate in community events, such as Natural Resources Fair and Feast, Health Fair, Pow Wow and Earth Day celebration, etc.
The GREEN Committee Policy and Commitment Pledge Document
2022/2023 GREEN Committee Members
| | | | | |
| --- | --- | --- | --- | --- |
| Name | Job Title / Position | Green Committee Role | Phone Number | Email |
| Alfonseca, Victoria | Editor – Communications Coordinator | Community Events Coordinator | | |
| Anderson, Sandy | Facilities Administration Assistant / Program Director | GREEN Committee Member | | |
| Berz, Jackie | Community Volunteer | GREEN Committee Member | | |
| Feringa, Steve | Corporate Architect EDC Project Management Dept. Manager | EDC Community Representative | | |
| Leaureaux, Carrie | Tribal Court Program Director/Court Clerk | GREEN Suggestion Program Coordinator | | |
| Oien, Becky | Tribal Manager | Executive Committee Representative | | |
| Parzych, Vicki | Paralegal for the Office of the Prosecuting Attorney/Presenting Officer | GREEN Committee Member | | |
| Paul, Page | Legal Affairs Administrator | GREEN Committee Member | | |
| Sonderegger, Carolan | Natural Resources Department Manager | Committee Chairperson | | Carolan.Sonderegger@gtb-nsn.gov |
| Swallows, Donna | Tribal Council Treasurer | Executive Committee Member | | |
| Winslow, Doris | Executive Assistant to Tribal Manager | Executive Committee Representative | | |
| Wonegeshik, Delores | Elders Dept. Manager | Secretary | | |